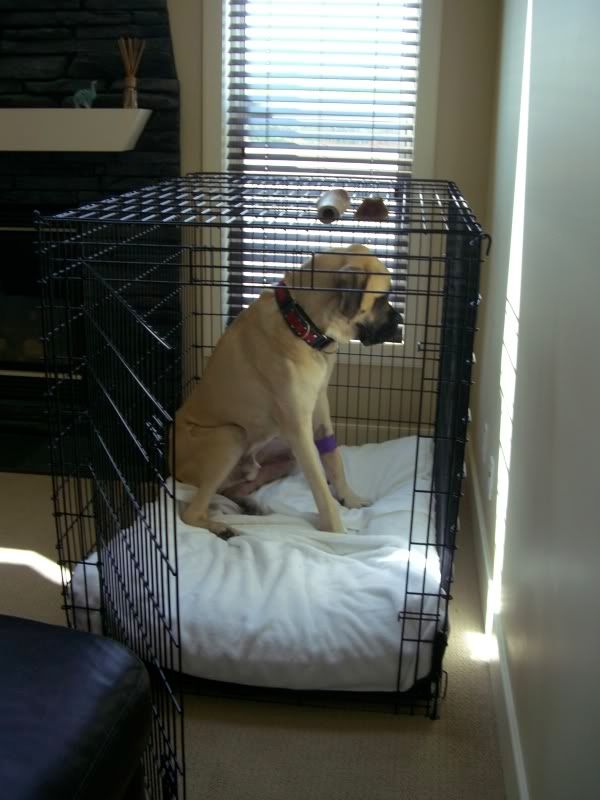 YAY!! Zeus is home and seems to be doing just fine! A lot better then I was anticipating. I had to wait around for about an hour before they brought him out, went over all the recovery schedule and medication. Of course I get home and there are workers all over the outside of the house FINALLY working on finishing the stone work on the exterior.....couldn't have picked a better day!! But thankfully Zeus doesn't seem to be too interested and just wants to lay in his bed. Hopefully it stays that way cause there is a lot of banging and stuff going on...argh!
I took him out once so far for a bathroom break. He does seem to be really out of it and after going pee I waited a bit to see if he had any more buisness to do and he started to sit down and so I just took him in the house. As soon as we get in he leads me straight to his bed and just wants to lay down.
He's just really laid back and calm, not interested in much other then giving me kisses and sleeping!
The workers haven't finished the stone today so will be back tomorrow and should be done by the end of the day. Hopefully Zeus will still be in this same sort of mood and not care at all. A few times the workers have knocked on the door and he would just lift his head and look.
I guess he wouldn't eat for them this morning when he was at the clinic, but I just fed him his dinner and he gobbled it up nicely!
Here are is what his Chart says that I got from the vet:
Clinical and Laboratory Findings:
Findings are consistent with bilateral partial deterioration of the cranial cruciate ligaments.
Surgery:
Arthoscopy of the left. Stifle was performed. Findings included:
Cranial cruciate ligament: mild partial tear; debrided using arhrex wand.
Osteophytes: minimal
Meniscal injury: intact; no release performed.
Cartilage injury: grade 1 to 2 cartilage wear of troclear groove and weight bearing surfaces.
TPLO was performed using a 24mm radial osteotomy, 13mmmm rotation, and stabilized using a 3.5mm New Generation Devices TPLO plate.
Preoperative tibial plateau angle: 31 degrees.
Postoperative tibial plateau angle: 9 degrees.
Medications that he is on:
Tramadol - Pain Medication

Metacam - Anti- infalmatory

Novolexin - Antibiotic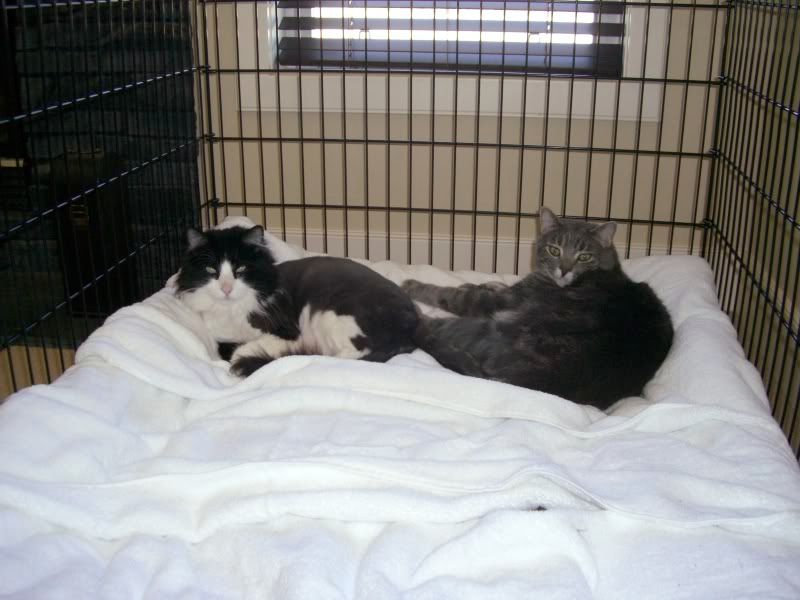 Charles & Scruffy taking advantage of the fact that Zeus isn't home...not for long boys!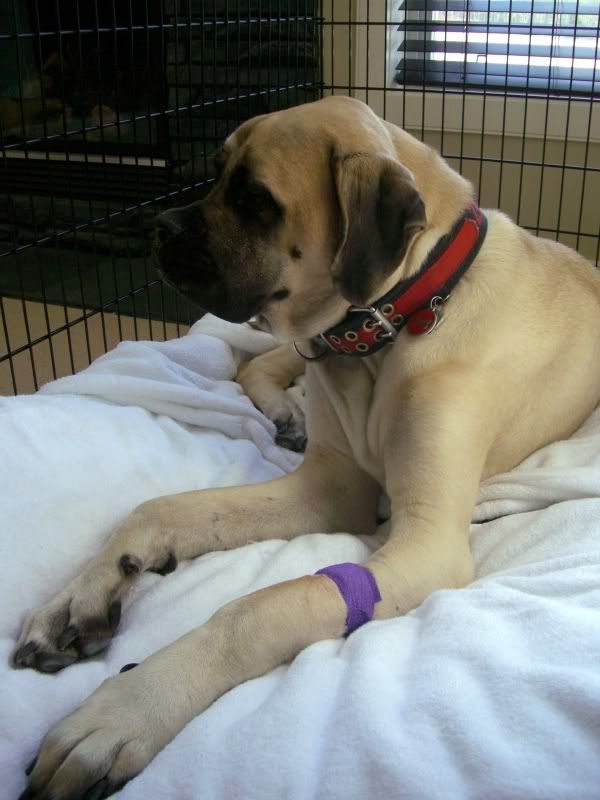 My big goober is home!!! YAY He doesn't look too happy :(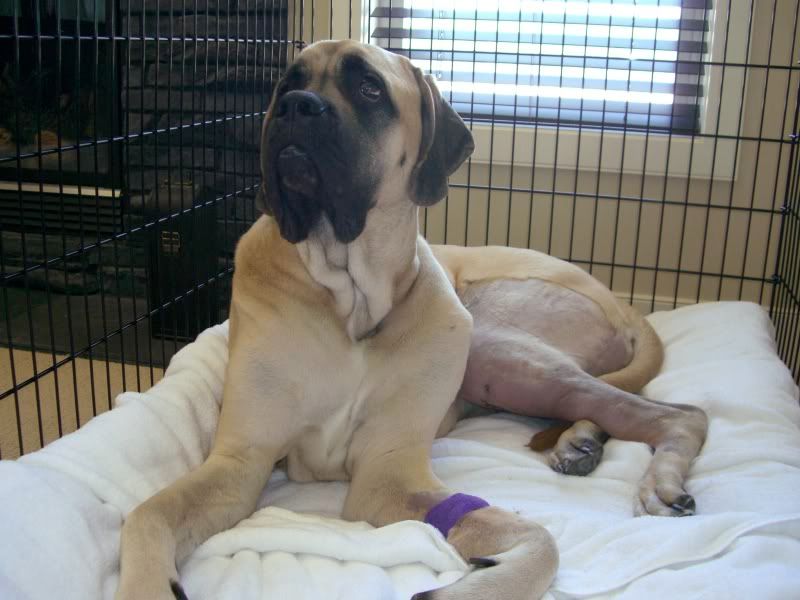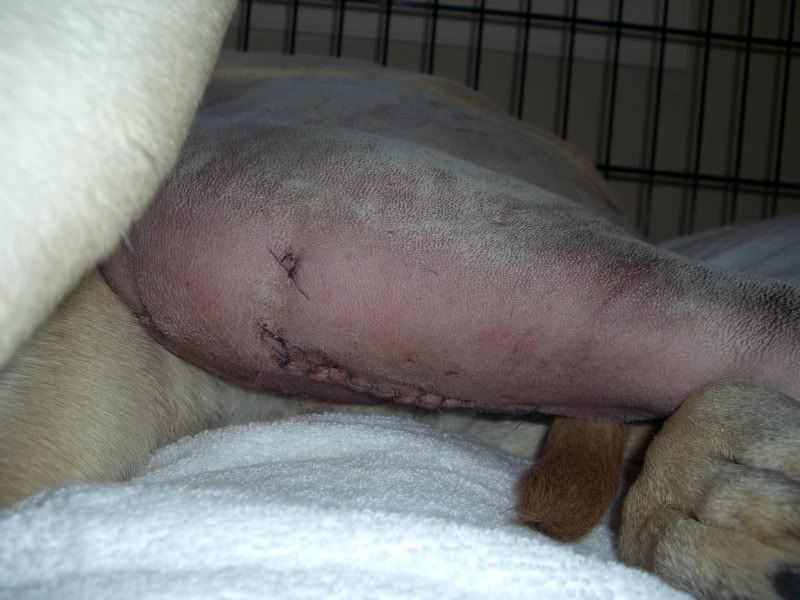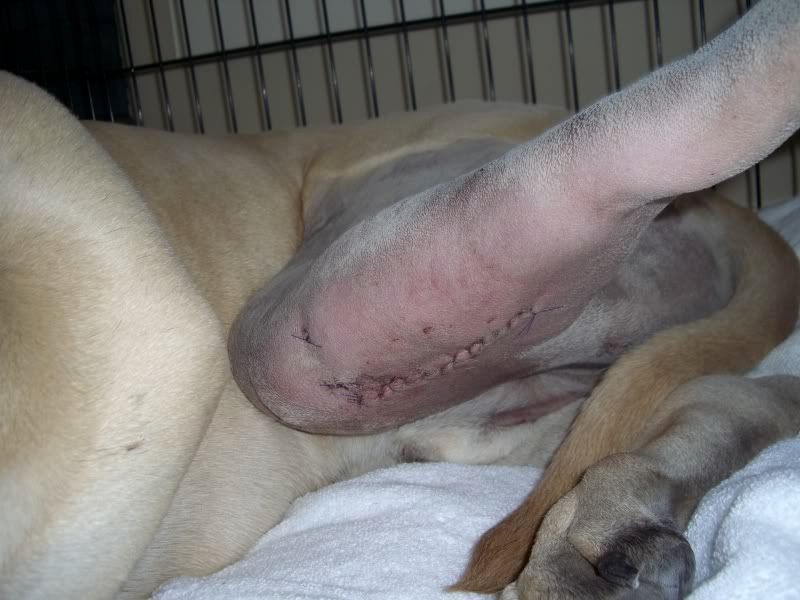 Physical Therapy Week One:
Very slow, controlled leash walks for 5 minutes 2-3 times daily. Encourage very controlled use of the leg.
Ice pack the knee and inside of the leg for 5-10 minutes 2-3 times daily. This will help to reduce inflammation and pain.
Massage the muscles of the upper leg for 5 minutes 3 times daily.
Avoid activity that causes any discomfort or increasing amounts of lameness.
****** 7:00pm
Ya...I'm thinking the 5 minute walks 2-3 times a day aren't going to be happening for a long while. He's just barely toe touching and I can't see me taking him for a 5 minute walk! I think maybe that recovery plan is made more for the lighter dogs?
I just took him outside for a pee break and he peed for about...hmm....3 minutes I swear! It was the longest pee ever. He also went poop, which I am so glad! I wasn't sure how he was going to fair when having to poop but he did wonderfully! He's laying in his crate right now chewing on a RMB. Once he's done I'm going to put the ice pack on his knee again for a while and snuggle for a bit before bed :)